Trail German Evening lesson for free!
Let me inform you that the German Courses are being held all year long.
You can sign up for a German Evening Course
according to your language level at any time, as long as you're not an absolute beginner.
For beginners we offer German Beginner-Courses, which start every month.
Register in a German Course that suits your language proficiency level.
If you're not certain which course level fits your German language skills best, then take the opportunity to participate in a free trail lesson in one of our German Courses.
You can switch to another German Course anytime.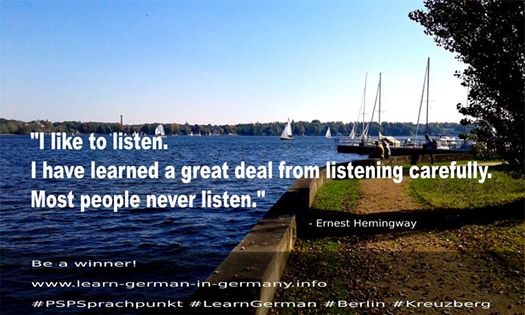 If you live a life like Ernest Miller Hemingway did,
then you probably won't have any problems to speak German in the following countries: The United States of America, Brazil, Canada, France, Argentina, Russia, Kasachstan, Australia, the Netherlands, Great Britain, Spain, Chile, Paraguay, Hungary, South Africa, Mexico,Israel, Romania and the Czech Republic.
Although German is not the official language spoken in these countries, due to the history of events, the above listed nations are also home to a German speaking population.
During your stay in Berlin you could write a travel diary, or inform your friends on your blog about the language school where you are attending a German Course.
And who knows,
maybe Berlin will inspire you to finally write your breakthrough novel.